Suspension of flight operations to be extended until 17th May. Directorate General of Civil Aviation (DGCA) issues circular to extend the prohibition of domestic & international commercial flight operations till lockdown is over.
New Delhi: The civil aviation announced that the flight operations will remain suspended until May 17 as the lockdown is extended. Meanwhile, requests from the nation's expats to bring back stranded Indians from foreign countries still persist.
The official circular says, "In view of the decision taken by the Government to continue the lockdown up to 17th May 2020, as contained in MHA's order No. 40-3/2020-DM-A(A) dated 01.05.2020, the validity of the MoCA Order No. AV11011/1/2020-US(AG)Office-MOCA dated 23rd March 2020, prohibiting domestic passenger flight operations, has been further extended up to 2359 hrs IST on 17th May 2020".
It further states that "It has been decided to extend the validity of the CIRCULAR dated 14.04.2020 issued n the subject cited-above regarding Scheduled International commercial passenger services till 2359 hrs IST of May 17th, 2020. This restriction shall not apply to international all-cargo operations and flights specifically approved by DGCA".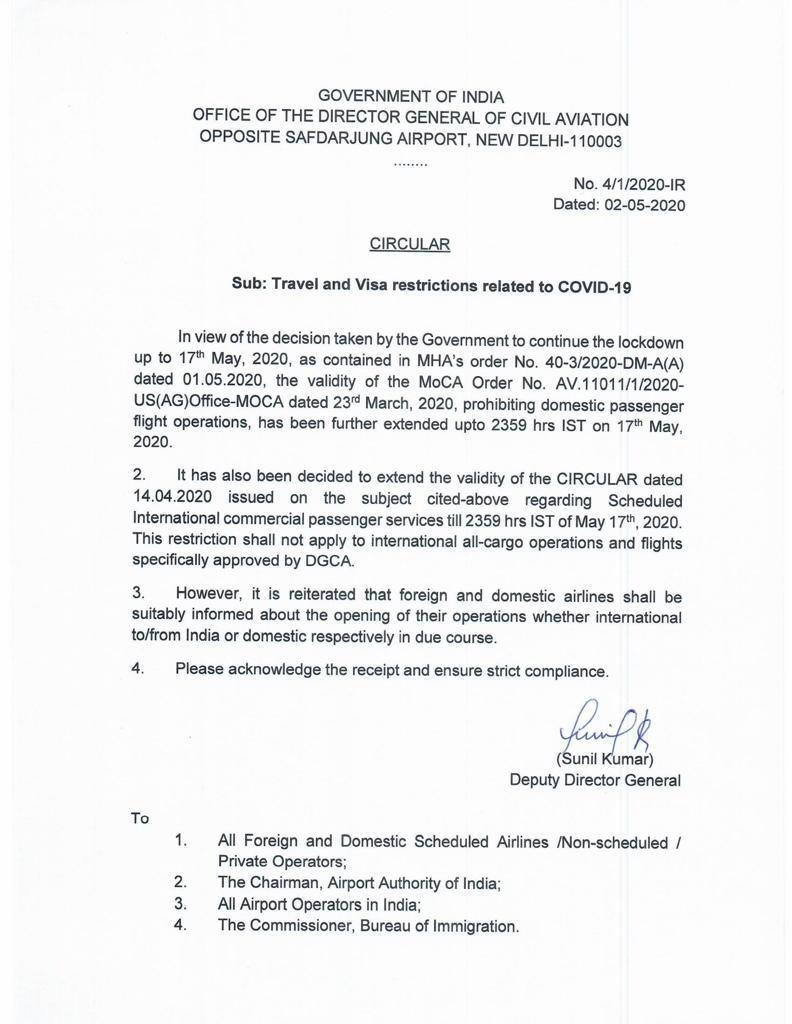 "However, it is reiterated that foreign and domestic airlines shall be suitably informed about the opening of their operations whether international to/from India or domestic respectively in due course'.
The director generals office demands that the circular be acknowledged and strict compliance is met by the respective parties.
The circular is sent to All foreign and Domestic Scheduled Airlines / Non-Scheduled / Private Operators, The Chairman, Aiport Authority of India, All Airport Operators in India, The Commissioner, Bureau of Immigration.