Superman turned 37. Henry Cavil celebrates his 37th birthday by making a Red-Velvet cake himself.
Henry Cavil, born on 05 May, turned 37. He is considered to be the most fitted actor to portray Superman on reels. Fans are sending love to the Superman and The Witcher actor as he turns 37 on May 5.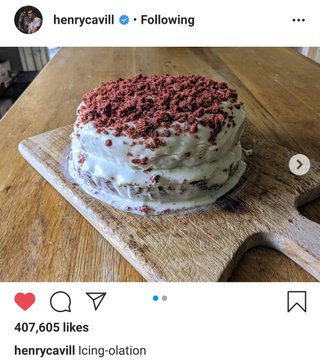 He began his career with roles in the feature adaptations of The Count of Monte Cristo (2002) and I Capture the Castle (2003). He later appeared in supporting roles in several television series, including BBC's The Inspector Lynley Mysteries, ITV's Midsomer Murders, and Showtime's The Tudors. He has since appeared in numerous major Hollywood films, such as Tristan & Isolde (2006), Stardust (2007), Blood Creek (2009), and Immortals (2011).
Cavill gained prominence and international recognition for portraying Superman in the DC Extended Universe, starring in Man of Steel (2013), Batman v Superman: Dawn of Justice (2016), and Justice League (2017). He went on to star in the action spy films The Man from U.N.C.L.E. (2015) and Mission: Impossible – Fallout (2018). In 2019, he began starring as Geralt of Rivia in the Netflix fantasy drama series The Witcher.
In December 2013, Cavill was named "World's Sexiest Man" by British Glamour magazine. The same year, Empire magazine placed him third on their list of "The 100 Sexiest Movie Stars 2013".
In early 2008, Cavill became the face of the British fragrance Dunhill. A television commercial for the brand featured a suited-up Cavill walking through the Union Jack, before boarding a helicopter.
A second television commercial featured Cavill driving a car through a deserted London at night, and meeting a young woman.